St Bernadette's students become 'Radical Recyclers'
09 Jun 2016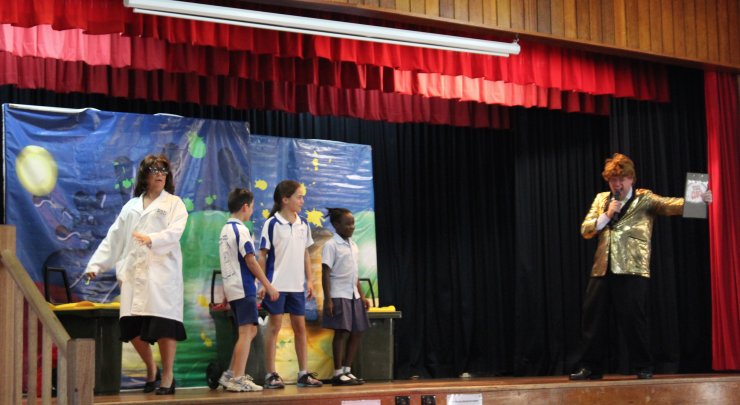 St Bernadette's students become 'Radical Recyclers'
On Friday 20 May 2016, Stage 2 and 3 (Years 3 to 6) students from St Bernadette's Primary, Lalor Park were treated to a special performance from the Eaton Gorge Theatre Company as part of their focus to raise awareness about environmental issues at a school level.
The production titled 'Radical Recyclers' is an educational experience aimed at developing students' understanding of how recycling works; impacts of climate change; water conservation and reducing their carbon footprints.
Year 6 student Environmental Leaders Chan Deng and Thomas Ross said the performance was relevant because everyone recycles at home.
'The skills we learn today will help the environment for the rest of our lives,' Thomas said. 'It was really important for our school to see this performance, especially for younger students to learn how to recycle properly early on.'
'The Radical Recyclers showed us what we can and can't recycle, which is really important for us to know,' Chan added. 'They made the learning very fun.'
FACEBOOK
29 Nov 2023

Here's our last Kindy 2024 Transition session for 2023. This Friday all of our 2024 Kindy kids will join Mrs Brothers in the Kindy classroom for their first Orientation morning. Exciting times ahead for these guys and their parents!!! 💛☀️💛☀️💛☀️💛☀️💛☀️