2020 Term 4 Week 3 - Let's Cook and Create
30 Oct 2020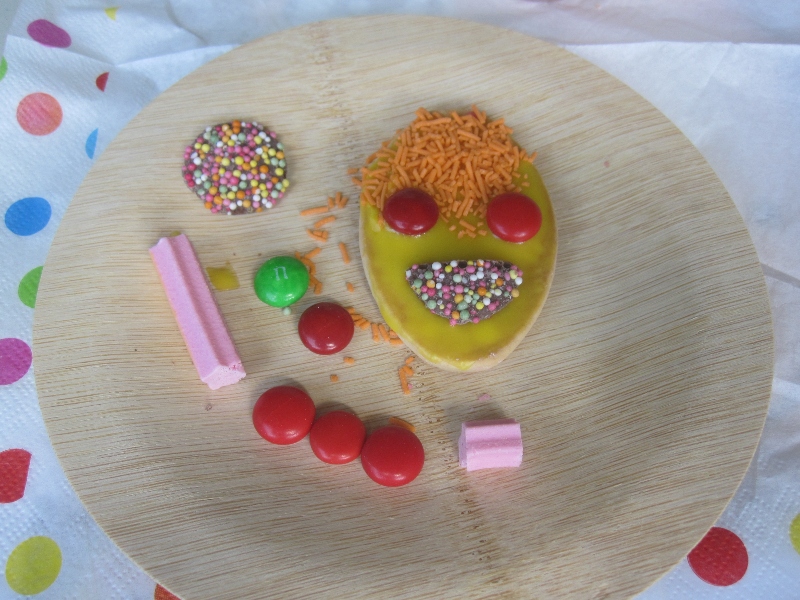 On Wednesday 21 October, nine Stage 1 students were nominated by their Teachers, to participate in a special one-off treat!
Due to COVID-19 restrictions, all care was taken re distribution of ingredients and students were able to create, an imaginative Face Biscuit!
The next session will take place on Wednesday, Week 4, when Stage 3 students will participate. All care is taken re allergies and parent permission is necessary. Why not create this masterpiece at home!
Arrowroot Biscuit Faces
Ingredients:
1 packet of Arrowroot Biscuits
1 packet of Smarties
1 packet of Jelly Beans
A variety of Sprinkles
100's and 1000's
Snakes
Freckles
3 tablespoons Icing Sugar
Pink and Yellow food colouring
Water
Method:
Mix together the icing sugar, in 2 small bowls … 1 pink, 1 yellow … with just enough water to make a pliable but not runny icing.
Some pink or yellow icing (your choice!) will be spread over a biscuit which is on your plate.
A selection of treats will be offered (again your choice!) and placed on your plate, to enable you to decorate the biscuit, before the icing sets, hard.
Utensils:
Jug for water, Knives for spreading, Spoons for dipping, Small Bowls for mixing, Plates for treats and biscuits, Mugs, Serviettes, Paper Straws, Placemats, Coasters
FACEBOOK
29 Nov 2023

Here's our last Kindy 2024 Transition session for 2023. This Friday all of our 2024 Kindy kids will join Mrs Brothers in the Kindy classroom for their first Orientation morning. Exciting times ahead for these guys and their parents!!! 💛☀️💛☀️💛☀️💛☀️💛☀️